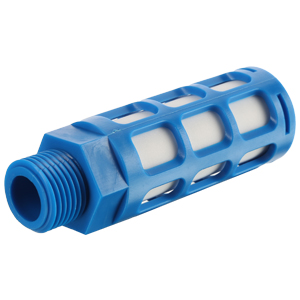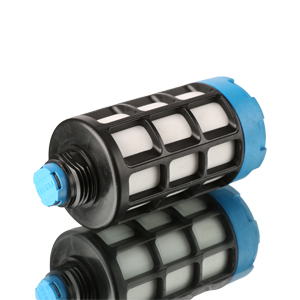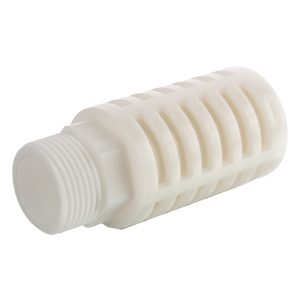 Typically, pneumatic devices have movable parts with an air outlet installed to release compressed air resulting from the rapid movement of these parts. The immediate release of this compressed air produces much noise, and the high force resulting from the pressure and speed of the air can cause severe damage to people or objects exposed to it.
A pneumatic silencer is a component installed in the air outlet's path in pneumatic devices and machines such as compressors, jacks, valves, etc. Reducing the pressure and intensity of the outgoing air minimizes the noise and prevents damage to people or objects exposed to it.
Pneumatic silencers consist of a filter and a filter holder, where the main role of reducing noise and the force of the outgoing air is assigned to the internal filter. This filter is a porous component with a regular, unique structure and numerous, highly tortuous holes. The high-pressure air outlet from the pneumatic devices enters the silencer and, after entering the innumerable and highly tortuous holes of the filter, its pressure and speed are reduced, preventing the creation of noise and damage to objects in the path of the outgoing air.
Therefore, the density, size of the holes, uniformity, and degree of tortuosity of the filter are essential factors in the proper and long-term functioning of pneumatic silencers in reducing noise and the intensity of the outgoing air. In addition, due to the high pressure of the outgoing air, the filter must have sufficient strength to withstand the air pressure without destruction.
Another task of these silencers is to remove impurities and contamination and prevent the entry of drops and oil particles from pneumatic devices into the environment and vice versa. The appropriate size and uniform distribution of holes in the pneumatic silencer filter are the most critical factors in the quality of removing impurities and contamination.
Pneumatic silencers are produced in plastic and metal types, which are selected based on their expected performance and application. In plastic silencers, due to the larger cross-sectional area of the filter, noise and the intensity of the outgoing air are reduced more, and they have more stability in corrosive and chemical environments than metal silencers. The advantages of metal silencers include better performance at high temperatures, smaller dimensions, and lower prices.
Since the filter plays the most crucial role in the proper and long-term performance of pneumatic silencers, the structure, density, degree, and size of the filter holes used in Goharan pneumatic silencers are engineered and designed to ensure maximum noise reduction and reduction of the intensity of the outgoing compressed air, as well as high strength and long-term performance of these components, leading to cost savings in operational costs.
In addition to ensuring quality performance, appropriate dimensions with minimal changes, high-quality and pure raw materials, competitive prices, and easy and fast supply have made Goharan pneumatic silencers an ideal and competitive product compared to the best brands worldwide.